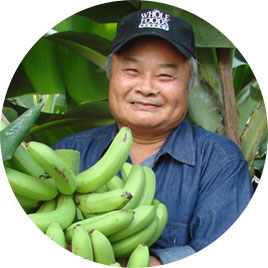 Professor Teruo Higa was born on December 28, 1941, in Okinawa, Japan. From his childhood, the inclination for agriculture was in his thoughts and in his daily life. At a young age, he had already decided to become an agricultural leader very different from the traditional farmer of his time.
Following his conviction, he graduated from the Department of Agriculture of the University of Ryukyus. He continued his PhD at the University of Ryukyus where he completed the Agricultural Research course.
In 1970, he was invited to be a lecturer at Ryukyus University. In 1972, he was appointed as an assistant professor and ten years later, in 1982, as a professor at that university.
In 2007, he was awarded the title of honorary professor at Ryukyus University and appointed as a professor at Meio University in Okinawa, Japan. This same year, Dr. Higa assumed the presidency of the "International Institute of EM Technology™".
With the development of EM™ came international recognition and, today, he guides and provides assistance for the application and research of EM™ around the world.